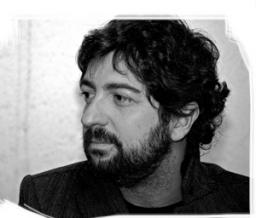 Javier GUTIÉRREZ
Madrid, 1974
© David Lanáquera
Javier Gutiérrez has a degree in economics from the Complutense University in Madrid, He has worked as an economist and publisher. He currently spends most of his time writing.
He is the author of the novels Lección de vuelo (Opera Prima. 2004;  New Narrators Prize 2004) and Esto no es una pipa  (Salvador García Aguilar Prize 2009). He is also the winner of the 2008 José Saramago Short Fiction Award and finalist of the 2010 Tiflos Short Story Collection Prize, which he entered under the pen name Rubik, in reference to the creator of the famous Rubik's Cube.
His latest published book is the novel Un buen chico (Penguin Random House, 2012).