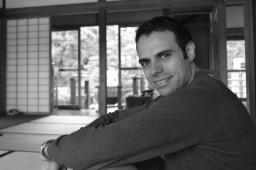 David B. GIL
Cádiz, 1979
© Gracia Berg
David B. Gilhas a degree in Journalism and pursued postgraduate studies in Multimedia Design and Social Media Management. El guerrero a la sombra del cerezo was runner-up on Planeta's Fernando Lara Prize and is the only self-published novel to have won the Hislibris Historical Fiction Award. It remains Amazon Spain's best-rated historical novel.
His second novel, Hijos del dios binario (PRH/ Suma, 2016), was shortlisted for the Ignotus Award (the Spanish equivalent to the Nebula Award) and was chosen as one of the best science-fiction novels of the year in Xataka, Hobby Consolas or La Casa de El.
El guerrero a la sombra del cerezo was finally published in print (PRH/ Suma, 2017) and became a great success, with more than 10 reprints.
In 2019 he published a new historical thriller set in Feudal Japan, Ocho millones de dioses (PRH/ Suma, 2019) and was high in Amazon's bestseller list even before its publication.
In 2022 he returns to the Feudal Japan with Forjada en la tormenta (PRH / Suma, 2022).