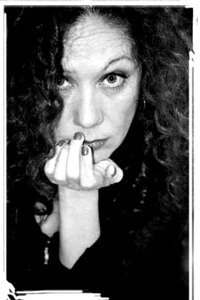 Cristina FALLARÁS
Zaragoza, 1968
© Laura Muñoz Hermida
Cristina Fallarás (Zaragoza, 1968) is a journalist and a writer. She has worked as a journalist for several newspapers, radio and TV channels. She has been awarded with the María Luz Morales Prize 2019, which recognizes journalist pieces about female empowerment and feminism.
Among her published books to-date one should mention: No acaba la noche (Planeta, 2006), Así murió el poeta Guadalupe (Alianza, 2009), the thriller Las niñas perdidas (Roca, 2011 – Winner of the L´H Confidencial International Noir Novel Prize and the Hammett Award), Últimos días en el puesto del Este (DVD, 2011 – reissued by Salto de Página, 2013 – Winner of the LXII City of Barbastro Prize), the non-fiction on the subprime mortgage crisis and her own eviction, A la puta calle. Crónica de un desahucio (Planeta, 2013), and the celebrated Honrarás a tu padre y a tu madre (Anagrama, 2018).
Her latest published book is a short essay collecting the testimonies of women who have suffered men's violence, Ahora contamos nosotras (Anagrama, 2019).