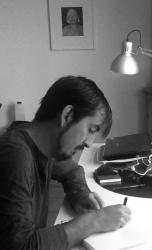 Carlos LABBÉ
Santiago de Chile, 1977
*(Working in conjunction with Editorial Periférica)
Selected by GRANTA for their anthology The Best of Young Spanish Language Novelists

He is graduated in Liberal Arts with a thesis on Juan Carlos Onetti. Later he received a Doctorate with a thesis on Roberto Bolaño. Pop musician, screenwriter for film and television, literary critic, anthologist, university professor, and ex director of Planeta Chile. The magazine Qué pasa selected him as one of today's most promising Latin American authors.
Labbé published in 2004 his novel Libro de plumas (Ediciones B, Chile, 2004), which made him one of the new references in Chilean literature. The novels Navidad y Matanza (2007), Locuela (2009), Piezas secretas contra el mundo (2014) and Coreografías espirituales (2017), published by Periférica with excellent reviews, amplified this recognition, consecrating Labbé as an indisputable name of the new Latin American literature. In 2011 appeared, also in Periférica, his book of stories Caracteres Blancos.