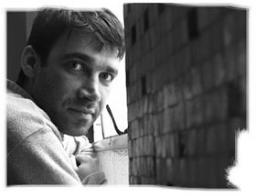 Antonio GARCÍA ÁNGEL
Cali, Colombia, 1972
© Margarita Mejía
Antonio García Ángel earned a degree in Literature and another in Communications, both in the Javeriana University in Bogota. Currently, he is a university professor and a columnist for the publication SoHo.
In 2001 he published his first novel, Su casa es mi casa (Planeta; La otra orilla, 2008). In 2004, the Rolex company selected him for The Rolex Mentor and Protégé Arts Initiative, which allowed him to study for a year with mentor Mario Vargas Llosa. In 2006 he published his second novel, Recursos Humanos (Lengua de Trapo). After being chosen as one of the 39 writers under 39 who best represent Latin America in the Bogotá World Capital of the Book of 2007, he published a book of short stories Animales domésticos (Norma, 2010 – recelntly reissued by Penguin Random House, 2017).
After the publication of the critically acclaimed novel Declive (Penguin Random House, 2016), his latest published work is the noir graphic novel El taxista siempre llama dos veces (Penguin Random House, 2017).