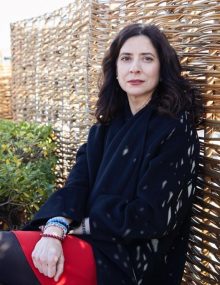 Ana MERINO
Madrid, 1971
© Félix de la Concha
Ana Merino (Madrid 1971) is an author who has spent more than twenty years living in the United States. Professor of Cultural Studies and of Creative Writing in Spanish at the University of Iowa, she started the MFA in Creative Writing in Spanish program in 2011 and was its director until December of 2018. In the United States, she has been a pioneer in Hispanic Studies and in developing academic approaches to the comic, while at the same time curating four exhibitions and publishing a number of specialized essays. She has served as an op-ed contributor to El País, a member of the Executive Committee for the International Comic Art Forum (IACF), a member of the Board of Directors for the Center of Cartoon Studies (CCS), and as a member of the Executive Board of Iowa City Unesco City of Literature. She is currently a member of the Executive Board of Iowa City's Riverside Theater.
She has published nine volumes of poetry, among then Preparations for a Journey, which won the 1994 Adonáis Poetry Prize, and several works of theater with debuts in Zurich and Iowa. She has also published a number of books for younger readers, including the novel The Man With Two Hearts (Anaya, 2009). Her other poetry books include Let's Pay Attention to the Tiger (Anaya, 2010), The Journey of the Dreaming Viking (Santillana, 2016), and Let's Save the Elephant (Santillada, 2017).
In 2020 she won the Nadal Novel Award with El mapa de los afectos (Destino, 2020), her first adult novel. Her latest novel is Amigo (Destino, 2022).