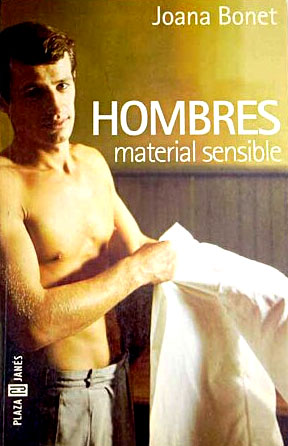 Hombres, material sensible
Men, Sensitive Material | Plaza & Janés, 2003
After more than ten years running women's magazines, Joana Bonet asks herself if a new male identity really exists: "The change in men is one of those processes everyone talks about but nobody believes." Despite the fact that some continue insisting to the contrary, there is clear proof of their transformation.

Men, sensitive material is an attempt to approach the 21st Century male through 1.300 personal diaries, interviews conducted by the author with subjects ranging from Françoise Giroud to Mickey Rourke or Giorgio Armani, and contributions by public figures such as Rodríguez Zapatero, Joaquín Sabina, José Antonio Marina or Sergi Arola.

Throughout her pages we find males who enter and exit the script, offering real first hand experiences through intimate confessions or amusing monologues: facing themselves, their commitments, the family, affirming the need to consolidate the bases of a new sexual contract: men and their imaginary: How do they see women? How do they react when women earn more money? Men and their preoccupation with being active fathers. Their genuine flirtations. Men, in short, in their modern contradictions.  Joana Bonet succeeds in undressing the man and positioning him before his new identity with a book that is both mirror and headlight. The debate is spiced with reflection on a "revolution" that has only just begun.