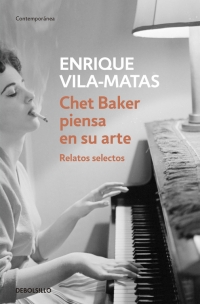 Chet Baker piensa en su arte. Relatos selectos
Chet Baker thinks about his art | RHM - DEBOLSILLO, 2011
Chet Baker piensa en su arte: this title brings together the essential corpus of Enrique Vila-Matas' short fiction from 1988 to 2010, a period in which his work went through a radical transformation.

Perhaps because the short story is still at the heart of his work, despite the fact that the author ceased to obey the traditional rules of the genre some time ago, Chet Baker piensa en su arte is presented as an indispensable work for understanding the literature of Vila-Matas. T

his work also contains a long, intense unpublished story that gives its title to the collection, and which proposes a new genre, that of 'critical fiction': one night, in a hotel room in Turin, a literary critic searches for the meeting point between radical literature as embodied by Joyce's last work, and traditional good quality literature as represented by Simenon. He is searching for the book that ideally will unite the readers of highly demanding minority works with those of more commercial ones.

Chet Baker piensa en su arte is an original short novel that can be read as a genuine – yet daring – continuation of the 'English leap' trilogy he began with Dublinesca.


PRESS